Multi-label stores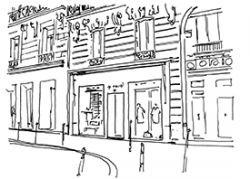 By Marie
Head Office
75002 Paris, France
T : +33 (0)1 40 26 07 05
F : +33 (0)1 45 08 49 71
sales@bymarie.fr
www.bymarie.fr/
Marie Gas
hunts out talent as well as being a designer. For the past ten years, Marie has travelled around the world to discover designers and dazzling items.
In 2000, she inaugurated her first boutique "
By Marie
" in Paris. Young stylists, widely known brands, vintage pieces and "coups de coeur" are the main components of her unique selection. Since then three other boutiques opened in France, each one of them with their very own...
By Marie
Women's Store
8, avenue George V - 75008 Paris - France

T : +33 (0)1 53 23 88 00

By Marie
Women's Store
44, rue Etienne Marcel - 75002 Paris - France

T : +33 (0)1 42 33 36 04

By Marie
Women's Store
108, rue Paradis - 13006 Marseille - France

T : +33 (0)4 91 04 65 35

By Marie
Women's Store
Place de la Garonne - 83990 Saint Tropez - France

T : +33 (0)4 94 97 44 60

Women's collections
3.1 Phillip Lim
Alexander Wang T
Current Elliott
Forte Forte
Golden Goose
Kristina Ti
L'Agence
R13
Raquel Allegra
Roseanna
Saloni
Thakoon

Accessory Collections Men & Women
Alexander Wang
Blesslev
Delphine Delafon
Dezso

Faliero Sarti
Ginette NY
HTC
Laetitia Uzan
Nessa
Shoes Collections
Golden Goose
Isabel Marant
Rupert Sanderson
---