FRANCE, ArtParis, Just Art !
ART PARIS 2011
published : March 07 2011
category : news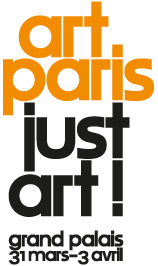 ArtParis Fair.

The 2011 edition will happen from March 31 to April 3, a 120 galleries of contemporary art, modern art and design from 17 countries will gather under the majestic nave of the Grand Palais.

Lorenzo Rudolf, former director of Art Basel, originator of Art Basel Miami and now ArtParis director, has announced a new program with the title ArtParis, Just Art ! : "This time we will even get out of the Grand Palais in oder to go into the city thanks to projects like Nuits parisiennes and Move for life. ArtParis has become a fair of projects and, for a few days, it turns Paris into an extraordinary platform of contemporary art..."
ARTPARIS, JUST ART!
Avenue Winston Churchill 75008 Paris

Opening Hours:

Thursday, March 31st from 11am to 8pm
Friday, April 1st from 11am to 10pm
Saturday, April 2nd from 11am to 8pm
Sunday, April 3rd from 11am to 6pm