GREAT BRITAIN / London: J Smith Esquire for Guoman hotels
Exhibition
published : September 12 2011
category : news
The hat-maker has designed five hats for the luxury London hotels.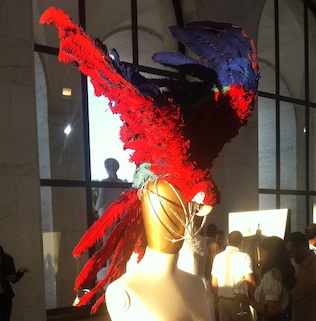 For Fashion Week Spring Summer 2012, the luxury Guoman hotels have invited the milliner to custom tailor five hats for the doormen. J Smith Esquire, young British hat-maker, started making hats in 2000, all the while still studying at the Royal College of Art. Since, he has received numerous prizes including the British Fashion Council's Young Fashion Entrepreneur of the Year Award in 2012.

For this, the hotels are organising a retrospective exhibition of the artist's career, entitled Guoman presents J Smith Esquire - Five. His latest haute couture designs are being shown in the UK for the first time. Launched during London Fashion Week, the exhibition will be extended and last for 5 weeks, taking place in the five London Guoman hotels, mainly at the Royal Horseguards and Charing Cross hotels.

It presents the designer's different workings, notably his collabrations with Aganovich, Aminaka Wilmont, Manish Arora, Mother of Pearl and Carolyn Massey... A film on the manufacturing process made especially for the occasion by Justin Smith Esquire will also be projected.

The exhibition, organised by Gemma Williams, will be inaugurated with a soirée on Friday September 16th, 2011 at 7.30pm.
Guoman presents J Smith Esquire – Five
From September 16th to October 21st, 2011:
Royal Horseguards : 2 Whitehall Court, Whitehall, London SW1A 2EJ
Charing Cross : Strand, London UK WC2N 5HX,
The Cumberland : Western Marble Arch, 32 Great Cumberland Place, London W1H 7TN
The Tower Hotel : Saint Katharine's Way, Lon E1W 1LD
The Grovesnor : 101 Buckingham Palace Road London SW1W 0SJ

Press contact :
Lauren Martin
lauren@blow.co.uk

Héloïse Keller © modemonline.com