ITALY / Milan: Visual experiment at Antonioli
Soirée
published : September 23 2011
category : news
Antonioli hosts a special evening, dedicated to the presentation of Trosman's Spring Summer 2012 collection, entitled Gelato Sucio.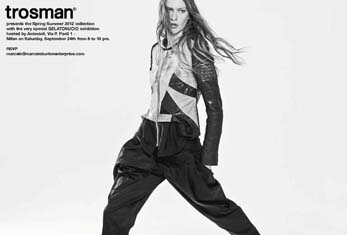 "I want a kiss under the mistletoe
From that brilliant animal
Licking rocks by an ice cream fountain
That mouth
Eating me flash by flash
The dribble, all Dracula and red
It explodes
It tarnishes

I want to bite and bite that mouth that now is another one, a memory of past ardors, a stream
That gets us all dirty and perfumed…"

Jessica Trosman

For her Spring Summer 2012 collection, Jessica Trosman took inspiration from a homeless artist, a sophisticated vagabond who wanders famously around Buenos Aires. The designer plunged this free man into an imaginary reinterpretation of local ice-cream production. This has resulted in soft, shiny leather pants, long skirts which fall like icy sheets of steel and jackets that fall effortlessly from the body, as if fallen from a ice-storm sky...

Jessica Trosman is becoming a well-known new face in the fashion world while she stills remains based in Buenos Aires. She has been recognized by renowned publishers such as Fashion Now, Taschen, Some/things, Sample and Phaidon. Recently, she collaborated with Rick Owens to provide him with her unique development of fabrics.

The collection is presented as part of a soirée hosted at Antonioli, which will allow guests to discover the latest Trosman collection alongside exclusive pieces. A projection of the film, "Gelatosucio", by Agustín Alberdi is planned, so as to provide a visual experience for guests, plunging them into the world of the designer's inspirations.
GELATO SUCIO
Saturday September 24, 2011
8 – 10pm
Antonioli
Via P. Paoli, 1
Milan
Contact

Héloïse Keller & Ben Sharp © modemonline…com