New book : Limited Edition - Prototypes, One-Offs & Design Art Furniture
published : February 10 2009
category : news
Through design prototypes, limited editions and design-as-art objects, Limited Edition documents a growing phenomenon in contemporary furniture design. It is a book about designers who are making furniture objects outside of, and parallel to, the industrial manufacturing system.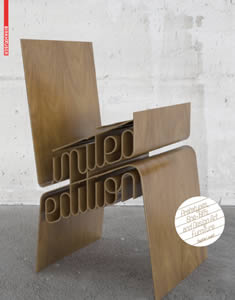 Limited Edition is illustrated with a rich selection of works that reflect the very best of this new area as well as new and behind the scenes images from some of its leading protagonists, including: Gaetano Pesce, Marc Newson, Maarten Baas, Tom Dixon, Studio Job, Zaha Hadid and Johanna Grawunder, together with an equally fascinating collection of newcomers and comparative unknowns.
It gives us an intriguing insight into their latest work as well as their thoughts about the current state their profession. From over 40 interviews with key designers, manufacturers, gallerists, auctioneers and critics, the author Sophie Lovell has catalogued and compiled a unique and timely overview of one of the most exciting creative fields of our age. Limited Edition is beautifully packaged in a custom-layout and typography specially designed by the Australian graphic design team Rinzen.
LIMITED EDITION, Prototypes, One-Offs & Design Art Furniture.
By Sophie Lovell.
Pub. Birkhäuser Verlag.
Available from march 2009.

www.sophielovell.com