Modem Mag / Thematic folders
UKRAINE / Kyiv: 30th Ukrainian Fashion Week FW 2012-2013 Best Of
The Ukrainian Fashion Week was held on March 14-18, 2012 in Art Arsenal (National Cultural-Art and Museum Complex).
Olena Dats'
category : thematic folders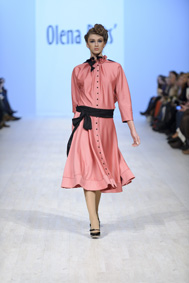 Graduated Lviv Academy of Arts, Fashion Design Department. Member of Ukrainian Designers Union. Designs for brand "Olena Dats'", "Olena Dats' Gallery".

Since 2005, fashion show & showroom during Ukrainian Fashion Week.
Since 2007, takes part in Rendez-Vous Femme and Atmosphere's during Paris Fashion Week.
From 2009 to 2011, Olena Dats' brand was presenting silhouettes, colors and spirit of the upcoming season at the trends forum Trends Wash at Salon Atmosphere's at Prêt à Porter Paris.
2010, presentation at "GALERIES LAFAYETTE" in Berlin, Germany.

Her philosophy: "I try to create simple things with intellectual filling". Dress-transformer, dress-game , dress like mobile Calder sculptures. The form can be easily changed depending on your morning mood. The feeling of freedom inspire to create own fabrics with help of weaving and exclusive screen print. These only natural fabrics (silk, wool, mohair etc.) become a source of non-cut and unique cloth. Big attention is dedicated to the weaved and imbroided details filled with human hands warmth.