Designer
They are Japanese.
We opened as a partner 'near.nippon' to make clothes in 2000.
Takuya is in charge of the design concept and Tomoko casts his idea into shape.
This cooperation style has remained unchanged since the company established
1972 - Tomoko was born in Shizuoka
1976 - Takuya was born in Tokyo
1995 - Tomoko graduated from BUNKA fashion college
1998 - Takuya graduated from ODA DESIGN college
1995-2000 Tomoko worked as a teacher in ODA DESIGN college
2000/April near office start
20022003 AW - wholesale start
2003 SS - exhibition start twice a year
2006/July/07 near.co.,ltd establishment
2007/2008 AW - exhibit salon "Rendez-vous" of Paris
Takuya Miyama and Tomoko Kamijima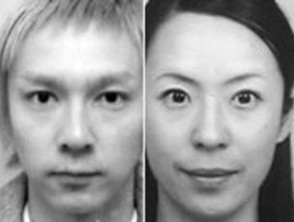 Label
Our company name 'near' is coined to mean to bring an element closer to an other end.
We believe that nature flows not from the centre but from the linking of two circles.
More specifically, contemporaneousness and universality coexist in clothes.
Contemporaneousness, that is, 'Faison' wears thin and loses color.
Clothes take root in life so they never truly lose color.
Our company name and logo shows not belonging of each circle but balance at the junction.
Contacts & showrooms
Near Co., Ltd
Showroom contact
Sales Department Japan
102 3-11-11 Shimorenjyaku, Mitaka-city
Tokyo, Japan


Near Nippon
Showroom contact
Sales Department WorldWide
Tokyo, Japan


Boutiques
Selection of multilabel boutiques
Paris

Norie M Paris
374, rue Saint-Honoré
75001 Paris
France

Tokyo

Side By Side
1-11-6 shibuya-ku Jingumae
Tokyo
Japan

Tokyo

Takashimaya
3F, 5-24-2 Sandagaya, Shibuya-ku
Tokyo
Japan