Designer
Shiatzy Chen Chronology
1978
Shiatzy International Company Limited is established in Taipei, launching the brand name SHIATZY CHEN- manufacturing women's clothing for sale in the domestic market.
1984
Established Shiztzy International Company Limited manufacturing mainly knitwear and ready-to-wear collections. Established the international department to expand internationally, and sold to markets in the United States and Japan.
1986
Continued sales of the knitwear and ready-to-wear collections to the United States, Canada, Japan, Hong Kong, West Germany, Holland, Italy, and Austria.
1987
Men's collection officially launched.
1990
Established a studio in Paris for an overall upgrade in industry technology.
1991
Explored the international market for the domestic brand in response to the diversity of international economies, also in compliance with the transformation of the economics of the government regime. In the spring and summer of same year, launched official sales in Japan.
1993
Attended the Taipei Fashion Show with advance previews.
1994
Continued attendance in the Taipei Fashion Show and joined the Taipei Paris Designers Joint Exhibition in May.
Established the Shiatzy member system, and the Arts Club.
1995
Attended a fashion exhibition in Taegu, Korea.
1996
Consolidated the garment portfolio into the brand name SHIATZY CHEN.
1998
Celebration of Shiatzy International's 20th anniversary, combined charity activities in commemoration of this milestone; introduced the Tumor Medical Research Center for women and invited socialites to raise money for the Tzu-Chi Medical School. Named by the French Madame Figaro as one of the 9 most distinguished women in Taiwan.
2000
Invited to Asia Designers Fashion Show in Singapore.
2001
Shiatzy International Paris store opened, the first Taiwanese brand name entering the European market.
2002
Invited to launch the new collection in Shanghai.
Designed and launched a couture collection for the Austria crystal manufacturer Swarovski.
2003
Shiatzy International Shanghai store opened.
Shiatzy International's 25th anniversary.
Shiatzy Taipei flagship store inaugurated.
Officially launched the men's and women's loungewear and deco series.
Selected as an up-and-coming brand by The Asian Wall Street Journal.
2004
Collaborated with The National Palace Museum, launching the spring collection in Jhih Shan Garden.
Elected by London Financial Times as the most popular fashion brand name in 2004.
Became the only brand to be invited to the Shanghai International Fashion Festival's 10th Anniversary celebration, and was the only Taiwanese brand of quality custom made clothing to be awarded.
Beijing boutique in the Chao-Yang district opened.
Hong Kong boutique at the Peninsula Hotel opened.
2005
Flagship at Bund 9 in Shanghai opened.
Hong Kong boutique at Lee Gardens opened.
2006
Qingdao Sunshine Department store boutique opened.
2007
Beijing Shinkong Place boutique opened.
China Operational Headquarters grand opening.
2008
Macau Four Season boutique opened.
Shenzhen Yitian Holiday Plaza boutique opened.
Shiatzy International's 30th anniversary celebration:
Charity sale of 3000 Shiatzy Chen wadded jacket;
Shiatzy Chen Pingbian Hope School opened
Listed in Paris Fashion Week's official calendar, launching the SS09 collections;
Cha Cha Thé Ltd. opened, developing an exquisite oriental lifestyle in full scale.
2009
2009/2010 Fall Winter collections launched in Paris Fashion Week
Hangzhou Tower Huazhe Square boutique opened
Hong Kong Ocean Center Harbor City boutique opened
2010 Spring-Summer collections launched in Pairs Fashion Week
Shiatzy Chen Anhui Xiangjingan Hope School opened
2010
Become official member of French Fashion Federation
Macao One Central Shopping Mall boutique opened
2010/2011 Fall-Winter collections launched in Paris Fashion Week
Shiatzy Chen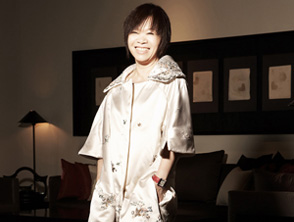 Label
The SHIATZY CHEN fashion house opened its doors in 1978 in Taipei. The Chinese name means "the new look of China", so the natural inclination was to cut a silhouette of past and present through transformative design. "??", meaning "original intention" in English, is written on each label and deftly sewn into the collar. Mme. Shiatzy CHEN, design director and brand innovator for SHIATZY CHEN, demands flawless artistry in all apparel. Mme. CHEN is consistently scrupulous in all her efforts, all the way from the feel of the cloth and the color produced by the luster to the patterns and motifs.

SHIATZY CHEN's no holds barred approach has remained consistent throughout her thirty spring and fall collections. SHIATZY CHEN is determined to secure a position on the global market, with the creation of a world-class luxury brand as the ultimate goal. In the 90's, the era when Taiwanese designer brands proliferated, SHIATZY CHEN opened a workshop in Paris, the city of haute couture. Her lofty ambitions were already apparent then. Afterwards the fashion house expanded to retail locations in Paris, Hong Kong, and China. SHIATZY CHEN boutiques in Paris, Taiwan, Hong Kong, Macau, Tianjin, Shenzhen and Dalian, as well as the flagship store on the Bund in Shanghai, are all integral to the long-term agenda.
In Oct. 2008, to celebrate the brand's 30th birthday, SHIATZY CHEN made her debut in Paris Fashion Week, launching the S/S 2008 collection, which amazed the westerns with its unique oriental beauty. Mme. Shiatzy CHEN, design director at SHIATZY CHEN, has conceived her designs based upon the concept of china, creating a new collection of 2009 spring and summer attire that exudes both fashion chic and classic humanism. "The various shapes of china and transformative lines of our clothing fully express the synthesis of a Chinese cultural aesthetic and everyday living," added Mme. CHEN. The patience and endurance required during the process of making china symbolize the earnestness and determination of SHIATZY CHEN in their now 30-year endeavor to fuse Chinese artistry with a modern fashion sense.
Fashion shows & sales campaign
Fashion shows
Paris women's fall-winter 17 / 18
Tuesday March 07 2017 at 5.30pm

Shiatzy Chen
Grand Palais
Galerie Sud porte H Grand Parvis
Avenue Winston Churchill
75008 Paris,

Sales campaign
Paris women's fall-winter 17 / 18
from Wed. March 08 2017 to Thursday March 09 2017

Shiatzy Chen
27 rue Jean Jacques Rousseau
75001 Paris , France
Debby Foucher de Brandois
debbyou@shiatzychen.com
T : +33 (0)1 40 15 95 98
Press contacts
Paris women's fall-winter 17 / 18

Shiatzy Chen
Catherine Miran Press Office
50, rue Etienne Marcel
75002 Paris
Rita Fakhy Bruneteau
+33 (0)1 42 36 65 82
shiatzychen@catherinemiran.com
Contacts & showrooms
Showrooms
Shiatzy Chen Paris
262, rue Saint Honoré
75001 Paris, France


Contacts
Shiatzy Chen Paris
Sales Department
Worldwide Sales Dept.
262, rue Saint Honoré
75001 Paris, France


T : +33 (0)1 40 15 95 98


Shiatzy Chen
Sales Department
Development Specialist


Sales Department
T : +86 21 6410 9988



Marketing - communication
Marketing


Communication Department
T : +86 21 6410 9988


Press contacts
Press offices
Catherine Miran Press Office
50, rue Etienne Marcel
75002 Paris, France
Boutiques
Boutiques Shiatzy Chen
Paris
Shiatzy Chen
262, rue Saint Honoré
75001 Paris
France
T : +33 (0)1 40 15 95 98
Shanghai
Shiatzy Chen
9 Zhongshan Road (E1), Huangpu District
Shanghai
China
T : +86 21 6321 9155
Taipei
Shiatzy Chen
49-1, Sec2, Zhongshan N. Rd.
Taipei
Taiwan
T : +886 2 2542 5506
---
Selection of multilabel boutiques
Lugano

Atelier Fabiola –Alta Moda
via Canova, 16
6900 Lugano
Switzerland

Roma

NIA
Via Vittoria N°48
00187 Roma
Italy

Zurich

Gassmann Mode
Poststrasse 5-7
Zurich
Switzerland