Clo'e Floirat
interview
published : June 14 2011
category : interviews
"Illustrator - no, draftsman - perhaps, critic - certainly, designer - inevitably to an extent, artist - not yet..."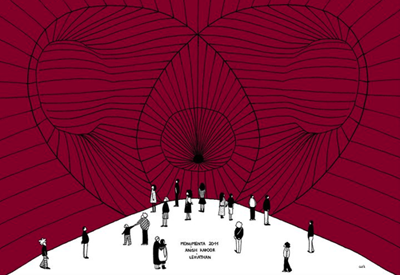 Clo'e Floirat sketched the Léviathan installation, the work which Anish Kapoor brought to life for Monumenta 2011 at the Grand Palais in Paris. The 11 drawings that she has done for the occasion have been reproduced on the dividers of June 2011's Modem Men's Spring Summer Collection, the cover of which is dedicated to the artist Anish Kapoor.

What was your academic path?

After a foundation year in architecture in the United States, I did a BA in furniture design at the ESAD de Reims before the IM Masters at the Design Academy Eindhoven in the Netherlands. Following these 6 years, I took a few "exploratory" breaks for several months in Mongolia, in the Middle East and in Ethiopia. Then I had the opportunity to collaborate with architects who were specialised in art spaces in Berlin, where I've been based for 4 years now. It's without a doubt that moment that the art scene and the architecture scene took the upper hand over design, but above all when writing and drawing became more and more present in my work! In October 2010, I studied at the Royal College of Art in London, following the then brand new masters course in Critical Writing in Art and Design.

How do you qualify yourself (designer, illustrator, reporter, artist...)?

Illustrator - no, draftsman - perhaps, critic - certainly, designer - inevitably to an extent, artist - not yet... I consider myself above all as a generator of projects. Expressing a vision or a thought, that can translate under various formats and practices which can all be part of the same role. Even if today I concentrate on writing and drawing... newspaper drawing in the field of culture, art, architecture, design... I'm writing to draw as much as I'm drawing to write.

Where can we find your drawings on display or published?

You can't really find them! I've been drawing forever, for a long time I archived my drawings online, on my site... The publication of some of these drawings is very recent. I've done some drawings for architecture or design magazines, but they're often attached to articles that I've written on a specific subject. I don't want to force anything, "time" is my ally, I think that to expose your work, you have to first of all propose yourself as an artist – I'm not one yet. Even if I think so...

What has the collaboration with Modem brought you?

The project of sketches for Anish Kapoor's Leviathan was brought to life behind the scenes of Monumenta. I think that collaboration like this with Modem allows me to concretise and give life to this project in a big way and supported in a different way.
How did you come to work on the Leviathan installation?
I was writing about the notion of scale, monumentality and the "disneyfication" of general public exhibitions. I asked if I could, as an exception, participate in the assembly of the exhibition. In reality, it wasn't so much for the Anisk Kapoor work but for the Monumenta exhibition in itself. In exchange, I proposed making a sort of artistic relationship with the installation, doing one drawing a day. I think that it was also a desire on their part to bring a slightly different viewpoint to the work of an artist.

How did it go working alongside Anish Kapoor?

Anisk Kapoor seemed extraordinarily serene amid immense tension. In fact nobody, not even the artist, had ever seen the complete work. For the whole time it was being set up, Anish Kapoor was very receptive to everything affiliated to his work. For the whole time it was being set up, the mystery was preserved on what would be unveiled to the public at the very last minute. I think that he appreciated the narration of the set-up in pictures, as actually they're enigmatic, speculative and fictional drawings which unveil the work day after day. I've also done a short animation on the genesis of Leviathan.
What are your future projects and collaborations to come?
For a year, I've been working in collaboration with Robert Wilson in New York, and I'm going back to work with him again this summer at the Watermill Center on Long Island, for a book project. Still in the same framework of my research on monumentality, I'm preparing a road trip through the Great American Desert to visit sites of major artworks of Land Art. I'm certainly going to take the reins back on Department 21 at the Royal College of Art in London, another excuse to generate new projects within this structure and to question the education of art and design in schools etc. I'm planning to spend a few weeks on my relationship with drawing and writing. In my "found" time, I design furniture, I've just presented a series of chairs at the DMY International Design Festival in Berlin. But my priority is studying! To be part of the first class of such a masters degree is a unique experience and I'm counting on enjoying it!

Which artists and designers inspire you?

I'm not an artist or a designer. It's the art scene in general which I'm interested in. But I would say that artists like Brion Gysin and his "poèmes permutes" or Ad Reinhardt have definitely influenced me. I'm also very attentive to newspaper drawings in general. I often wonder where my drawings come from, I've no idea.

Modem Men's collection Spring Summer 2012

Monumenta - news

Monumenta 2011

Interview conducted by Eloïse Daniels ©modemonline