Arik Levy with Vitra: WorKit system
published : March 18 2009
category : news
WorKit, the new office furniture system by Arik Levy for Vitra is a simple, rational and flexible solution for communicative office areas.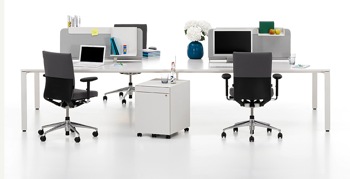 WorKit is a system for communicative office spaces that functions with just a few parts while offering office planners and users flexibility with an abundance of possibilities. Using the refined cube element, it can be securely connected in four directions and with only a small number of screws.
If fewer desk surfaces are needed, the individual parts can be quickly and easily dismantled or rearranged. This modular system is just as simple to understand as it is to assemble. A 4 workstation beach set up will not take more then 10 minutes to build.
Ldesign / Arik Levy:
29, rue des Panoyaux, 75020 Paris
T: +33 (0)1 44 78 61 61 / F: +33 (0)1 44 78 00 46
contact@ldesign.fr
www.ldesign.fr
www.ariklevy.fr

www.vitra.com