Publication of the book VIA Design 3.0
published : December 10 2009
category : news
The VIA, Valorisation of Innovation in Furnishing presents its book "VIA Design 3.0 : 1979-2009, thirty years of furniture design".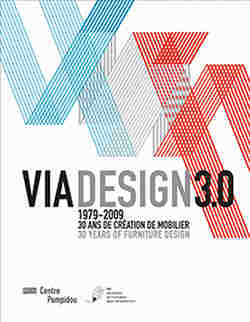 This book is published on the occasion of the exhibition "VIA Design 3.0" at the Centre Pompidou, which celebrates the thirtieth birthday of this unique platform of promotion of french creation in the field of design.
Its intention is to recounts thirty years of design through the adventures of the VIA. A tale of crossed paths: that of the VIA and those of numerous businesses and designers which it revealed, interviews, essays and thematic articles signed by personalities from the worlds of creation, art history and economy.
VIA Design 3.0 : 1979-2009, thirty years of furniture design:
Co-publication: Editions of the Centre Pompidou and VIA, Paris 2009
29,90€

VIA Design 3.0:
Exhibition held at the Centre Pompidou, Forum -1,
from December 16th 2009 to February 1st 2010
Curated by Valérie Guillaume for the Centre Pompidou and Gérard Laizé for the VIA.

www.via.fr
www.centrepompidou