Kazuyo Sejima and Ryue Nishizawa rewarded by the Pritzer Price
published : April 07 2010
category : news
The two Japanese architects wins the Pritzker Price, most prestigious price in architecture.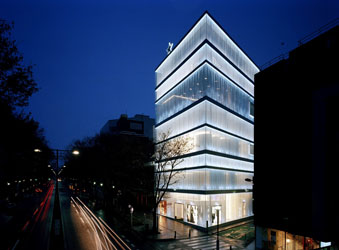 Created by Jay A. Pritzker in 1979 and awarded annually by the Hyatt Foundation, the Pritzker Price honors the works of a living architect and offers a 100 000 USD dotation to the winner.

The 34th winners are the two Japanese architects, Kazuyo Sejima and Ryue Nishizawa, founders of the SANAA agency (Sejima And Nishizawa And Associates).

Among their most prestigious works, are the new musée du Louvre at Lens, the New Museum of Contemporary Art in New York, the 21st Century Museum at Kanazawa in Japan and the Rolex Learning Centre at Lausanne in Switzerland. Since 2003, they have also worked with Dior by creating the first Tokyoite store of the French fashion house.
©modemonline