The BMW Art Car by Jeff Koons at Pompidou Centre
published : June 01 2010
category : news
The BMW art Car by Jeff Koons will be presented for the first time to the public on June 2nd at the Pompidou Center in Paris by Jeff Koons and Alain Seban, President of the Pompidou Center.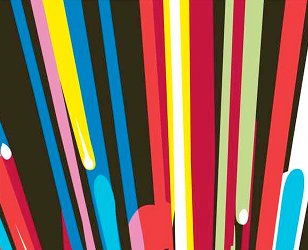 Since 1975, international artists have transformed BMW cars into art pieces for the Art Car program. The latest creation was made by Olafur Eliasson in 2007.
In 2010, to celebrate the 35th edition of the Art Car series, which featured works of famous artists such as Alexander Calder, Andy Warhol, Roy Lichtenstein, Frank Stella, Robert Rauschenberg et Jenny Holzer.

The sketches drawn by Jeff Koons evokes the power, the mouvement and light, transpodes in satured hues (tipically used by the artist). The artist worked closely with the BMW team in Munich, joining his talent to the sophisticated engineering of BMW to create a car, the 17th of the Art Car series, prepared for the 24 Hours of Le Mans.
©modemonline