B.Flex presented at Silvera Bastille (Paris)
published : September 22 2010
category : news
B.Flex presented at Silvera Bastille (Paris)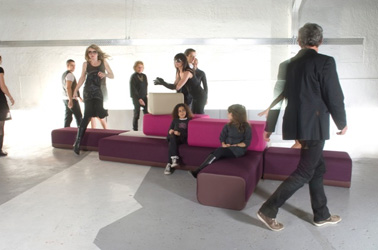 Designed by Marine Peyre, B.Flex system of flexible assizes is displayed in Paris in the showroom Silvera Bastille for the comeback 2010.

Flexible architecture of assizes, B.Flew is variable-geometry. It is based on a multitude of possible combinations of modules which allows to imagine forms of declinable assizes in the infinity. The model presented here is realized by Domeau&Pérès in cover Kvadrat © Divina.

B.Flex can be also made to measure with order for manners Indoor or Outdoor. A version in concrete intended for the public place is simultaneously launched by the Belgian producer Urbastyle.
Silvera Bastille - 41 rue du Fg St Antoine - 75011 Paris - Métro Bastille.

Silvera

Marine Peyre