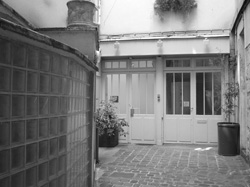 Galerie Zürcher
56 Rue Chapon
75003 Paris, France

---
Tuesday - Saturday from 12pm to 7pm
---
P : + 33 (0)1 42 72 82 20
F : + 33 1 42 72 58 07
info@galeriezurcher.com
www.galeriezurcher.com/

---
Since it was founded by Bernard and Gwenolée Zürcher in 1992, Galerie Zürcher has chosen emerging artists in France and abroad with whom it maintains long relationships. Since 2009 the Zürcher Studio promote artists already represented in Paris but also American-based newcomers, to show new art works and to create dynamic exchanges betwwen the two cities.

Bernard Zürcher is an art historian, author of several works on modern art, in particular about Georges Braque (L'Office du Livre, Fribourg & Rizzoli, New York) and Les Fauves (Hazan, Paris).
Vice-president of the Congres interprofessionnel de l'art contemporain (CIPAC) and a member of the Art Galleries Committee (CPGA), he is also one of the founders of the Contemporary Art Centre on the H.E.C. campus as well as L'Entrée, the contemporary art space of Le Bon Marché Rive Gauche.

He also recently created an international contemporary art prize for the Hôtel Le Meurice in Paris. Gwénolée Zürcher, expert in Asian Art has translated several books on art (Degas, by Denys Sutton; New York 1945 - 1965, L'Office du Livre).
---
---
---
---