Isabel Benenato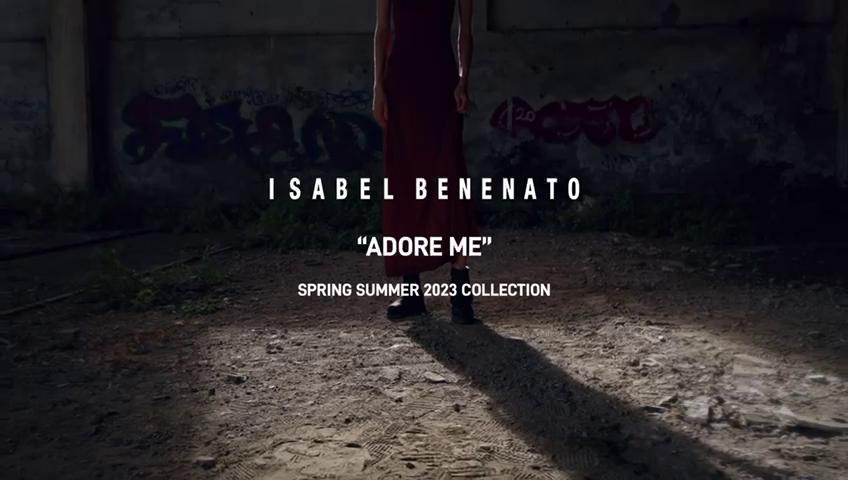 Collections
Women's RTW, Men's RTW
Men's/Women's Accessories : Belts, Scarves, Gloves, Caps
Isabel Benenato founded her namesake label in 2008 in Milan.
Her design is based on an imperfect perfection that encompasses the human being itself. The presence of black and white is fundamental in her collections.
While black represent mystery and sensuality, white project light and purity. Her childhood, art, photography and music are the main sources of inspiration, everything always comes from these key points and that's why, over the years, her collections always seem to have a common thread that makes them very recognizable and different to current trends.

Isabel Benenato bases everything she does on respect for the enviroment starting with the materials used, to encompass the purest concept of ethics and respect for human value. She is committed to sustinability and makes every effort to minimize its environmental footprint. All of the collection are manufactured in Italy with the intention to save and support her local community.

Showrooms & Contacts
Designer

Designer

Isabel Benenato
Showrooms
Function
Contacts
Noba S.r.l.
via Tazio Nuvolari 83
55061 Carraia (LU), Italy


Sales Department

Elisabetta Censi

P : +39 342 87 40 948

sales@isabelbenenato.com
Noba S.r.l.
via Tazio Nuvolari 83
55061 Carraia (LU), Italy


Accounting And Logistics Responsible

Federico Nelli

federico.nelli@noba1950.com
Isabel Benenato
Designer

Isabel Benenato is profoundly Italian. Born and raised in Naples, Isabel Benenato grew up in a family of creative people, her mother was a seamstress, and her paternal grandfather, a passionate artist who filled her family home with his paintings. Unknowingly she develops in those years her own passion for drawing, art and design.


Isabel Benenato's life philosophy is rooted in her south upbringing, which remains a constant source of inspiration. Benenato launched her first collection in Milano in 2008 with a focus on a mantra of simple and essential living. Men and women wearing Isabel Benenato take pride in representing her sustainable philosophy. Benenato's overarching goal is to keep the brand small, truthful,and honest. Constant growth is not the brand's goal.

Sales campaign
Sales campaign SS24
from Friday June 16 2023
to Saturday October 14 2023


Aretè Showroom
via Seneca 4
20135 Milan


---


MAN MAIN COLLECTION
– June 16 - 20, 2023
– June 29 - July 14, 2023

+ PARIS
– June 22 - 27, 2023
11bis Rue du Perche
75003 Paris

+ NEW YORK
– from July 01, 2023
A/BOVE Showroom
580 Broadwav, Suite 701
New York, NY 10012
– July 17 - 19, 2023
Project New York @ Iron 23
29 W23rd St
New York, NY 10010
E-mail Contact
Ph.: +1917 66 92 808


---


WOMAN MAIN COLLECTION
MILANO
– Sept. 04 - Oct. 14, 2023
Aretè Showroom
via Seneca 4
20135 Milano

+NEW YORK
– Sept. 05 - 26, 2023
Apropo Studio NY
13-15 West 28th St. (9th & 10th Fl)

+ PARIS
– Sept. 28 - Oct. 04, 2023
Galerie Pascal Gabert
11bis Rue du Perche
75003 Paris

Elisabetta Censi
P : +39 02 22 22 53 08 Mobile: +39 342 874 09 48
Instagram
Men's RTW
Selection of Multilabel Boutiques
Multilabel Store
Selfridges
400 Oxford Street
W1A 1AB London, United Kingdom
---
E commerce
Multilabel Store
UJNG
77 Redchurch St
E2 7DJ London, United Kingdom
---
E commerce
Multilabel Store
---
E commerce
Multilabel Store
Kadewe
Tauentzienstraße 21-24
10789 Berlin, Germany
---
E commerce
Multilabel Store
Frida
Bleidenstrasse 11
Frankfurt, Germany
---
E commerce
Multilabel Store
Werkhaus
Gross Elbtrasse 146
22767 Hamburg, Germany
---
E commerce
Multilabel Store
Serie Noire
14 rue Lepelletier
59000 Lille, France
---
E commerce
Multilabel Store
Closet Case
Building 7, Unit R09 Dubai Design District
Dubai, United Arab Emirates
---
E commerce
Multilabel Store
Cotton Club
via Lambro, via Napoleone 1
20900 Monza , Italy
---
E commerce
Multilabel Store
Macondo
vicolo Scudo Di Francia 7
Verona, Italy
---
E commerce
Multilabel Store
Tom Greyhound Downstairs
10-3 Dosan-daero 45-gil, Gangnam-gu
Seoul, South Korea
---
E commerce
Multilabel Store
Wolfensson
Hasburgergasse 1/1a
1010 Wien, Austria
---
E commerce
Multilabel Store
Ssense
418 rue Saint-Sulpice
H2Y 2V5 Montréal, Canada
---
E commerce
Multilabel Store
TNT Eglinton
Hazelton Lanes, 87 Avenue Road
ON. M5N 1A2 Toronto, Canada
---
E commerce
Multilabel Store
Shop Untitled
27 West 8th Street
Ny 10011 New York, United States
---
E commerce
Multilabel Store
W19
Karl Gustavsgatan 15
41125 Gothenburg, Sweden
---
E commerce
Videos
---
Recommended
Restaurants by
Isabel Benenato