Y-3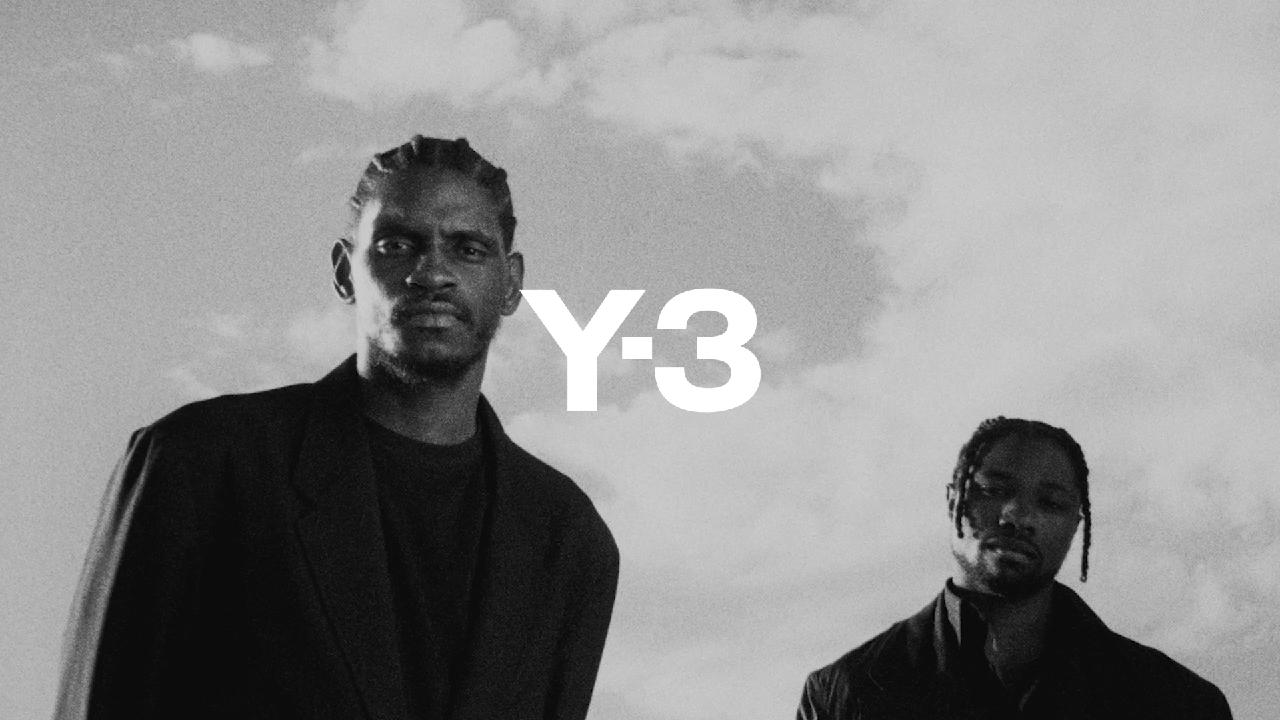 Collections
Men's/Women's RTW
Men's/Women's Accessories : Shoes, Bags, Belts, Scarves, Gloves, Caps, Others
Y-3 brings sport-style to the street. Fueled by the innovations of adidas and expressed in the language of Yohji Yamamoto, Y-3 creates apparel, footwear, and accessories that blur boundaries and cross genres—a vision driven equally by the German sports icon and the Japanese designer.

At its founding in 2002, Y-3 established fashion sportswear—a product category it has since defined and redefined.
Fifteen years later, Y-3 possesses a signature style, one that unites the seemingly contradictory worlds of athletics (engineered garments, intensive performance, the three stripes) and high fashion (elegance, fluidity, tailoring).

The Y-3 look is progressive yet practical, informed by Mr. Yamamoto's singular understanding of the silhouette and the body. Billowing volumes allow for unrestricted movement, while futuristic fabrications enable long-wearing function and comfort. This is all paired with a street-made confidence and a dose of Mr. Yamamoto's humor, conjuring an attitude that can only be described as Y-3.Mr. Yamamoto's imprint on Y-3 is unmistakable.

As a master of proportion and one of the world's most influential living designers, he infuses Y-3 with his poetic sensibility: the penchant for black, the daring shapes, and the purity of design. Simultaneously, Adidas draws on its most advanced technologies to push the limits of craftsmanship and composition. The result is a modern uniform of the streets—designed in Japanese and German ateliers and intended for the world.

In footwear, Y-3 has a history of dominating the landscape with iconic shapes and breakthrough materials, as demonstrated by an enduring and evolving roster of sought-after styles. From the bold proportions and minimalist structure of the cult-favorite Qasa to the innovation of the RUNNER 4D, Y-3 footwear consistently embodies the pioneering nature of the brand.
Showrooms & Contacts
Designer

Designer

Yohji Yamamoto
Showrooms
Function
Contacts



Sales Department

Head Of Sales Emea

Roel De Cooman

P : +49 (0)175 29 78 960

roel.decooman@haebmau.de
Showroom Y-3
4 Via Privata Rezia
20135 Milan, Italy


Sales Department

Sales Manager

Luca De Regibus

P : +39 (0) 2 54 10 78 85

luca.deregibus@haebmau.de



Sales Department

Sales Contact

Mark Andryszak

P : +49 (0) 151 12264450

mark.andryszak@haebmau.de
Press contacts
Contacts
Press contact
Adi-Dassler-Strasse 1
91074 Herzogenaurach, Germany


Y-3 Pr International

Press Contact

adidasy-3@prconsulting.net
Yohji Yamamoto
Designer

1943 - Born in Tokyo. 1966 - Graduates from Keio University, Tokyo; 1969 - Receives two leading fashion awards in Japan, the So-en Award and the Endo Award; 1969 - Graduates from Bunkafukuso Gakuin, school of fashion, Tokyo . 1977 - Presents first Y's collection in Tokyo; 1981 - Presents first Yohji Yamamoto collection in Paris; 1982 - Presents first Yohji Yamamoto collection in New York.

1982. Receives the 26th Fashion Editors Club (FEC) Award, Tokyo; 1984 - Presents first menswear collection in Paris; 1986 - Receives the 4th Mainichi Fashion Award, Tokyo; 1989 - Wim Wenders' film portrait of Yohji Yamamoto Notebook on Cities and Clothes, presented at Centre Pompidou.

1990 - Designs costumes for the Opera de Lyon production of Puccini's Madame Butterfly; 1991 - Receives the 35th Fashion Editors Club (FEC) Award, Tokyo; 1993 - Designs costumes for the Wagner Opera Tristan and Isolde in Bayreuth Festival, directed by Heine Muller; 1994 - Receives the Chevalier de l'Ordre des Arts et Lettres Nomination from the French Minister of Culture; 1994 - Receives the 12th Mainichi Fashion Award, Tokyo; 1994 - Designs costumes for the Kanagawa Art Festival Opera Susanoo; 1995 - Presents first +Noir collection; 1996 - Introduction of the first perfume: YOHJI; 1997 - Receives the 40th Fashion Editors Club (FEC) Designer's Award, Tokyo; 1997 - Receives the Night of Stars Award from Fashion Group, New York.

1998 - Presents the second perfume: YOHJI ESSENTIAL; 1998 - Receives the Arte e Moda award given by Pitti Immagine - Florence; 1998 - Participates in the 25th Anniversary of Pina Bausch Company, Wuppertal; 1999 – Presents the first men's perfume: YOHJI HOMME; 1999 - Receives the 18th Annual Council of Fashion Designers of America (CFDA), International Award, New York; 1999 - Designs costumes for Ryuichi Sakamoto's opera Life; 2000 - Designs costumes for Takeshi Kitano's film Brother; 2002 - TALKING TO MYSELF by Yohji Yamamoto, Carla Sozzani editore printed by Steidl; 2002 - Designs costumes for Takeshi Kitano's film Dolls; 2002 – Presents Yohji Yamamoto S/S 2003 collection on the eve of the Haute Couture week in Paris; 2002 – Appointed Creative Director of Y-3, Adidas Sport Style Division; 2002 - Presents first Y's collection in Paris; 2002 - Receives the Die schonten deutschen Buecher; 2002 (The most beautiful books in the world; 2002) Bronze medal, Leipiz Book Fair for TALKING TO MYSELF; 2002 – MAY I HELP YOU exhibition premieres at La Maison Européenne de la Photographie in Paris.

2003 – Presents men's collections, Yohji Yamamoto and Y's together in the same show in Paris; 2003 – MAY I HELP YOU exhibition at Hara Museum of Contemporary Art in Tokyo; 2003 – Supervises costumes for Takeshi Kitano's film Zatoichi; 2003 - Opening of the first Y's shop designed by Ron Arad in Tokyo; 2004 –Received the japanese Medal of Order of Culture.

For Spring 2004 2005-opening of the 2 first worldwide Yohji Yamamoto exhibitions : "Correspondences" at the Modern Art Gallery of the Palazzo Pitti (Firenze,Italy) and "Juste des vêtements", Yohji Yamamoto" at the Musée de la Mode et du Textile (Paris,France) ; 2005- Launch of A magazine curated by Yohji Yamamoto; 2005- Receives from The French Republic president the rank of Officer in the National Order of Merit ; 2006- "Dream shop" at the MoMu Fashion Museum Province of Antwerp ; 2007 –Launch of Ys Mandarina, a "bags-to-wear", bags and travelling accessories line; 2007 - Launch of Yohji Yamamoto Stormy Weather, a fine jewellery line in collaboration with Mikimoto.

2007 – Opening of a store in Antwerp with Yohji Yamamoto, Stormy Weather, Y's, Y's Mandarina, and Limi Feu lines.
February 2008 : Opening of Yohji Yamamoto second store in New York, 1 Gansvoort, New York, NY 10014 and Opening of a new Yohji Yamamoto store in Paris, 4 rue Cambon 75001 Paris
Boutiques
Boutiques
Y-3
Seasons Place Shopping Centre - 2. JinChengFang Street - XiCheng district.
100032 Beijing, China
---
Boutiques
Y-3
Miami Design District - 150 NE 40th Street
33137 Miami, United States
---
Boutiques
Y-3
92-94 Greene Street
10012 New York, United States
---
Selection of Multilabel Boutiques
Multilabel Store
Ocean Terminal
Shop OT 303 Level 3, Harbour City,
Kowloon Hong Kong, China
---
E commerce
Multilabel Store
Galeries Lafayette
40, boulevard Haussmann
75009 Paris, France
---
E commerce
Multilabel Store
Sogo Departement Store
3 F No 300 Sec 3 Road, Zhongxiao East Road
Taipei City 106 Taipei, Taiwan
---
E commerce
Multilabel Store
LN-CC
18 Shacklewell Lane Dalston
E8 2EZ London, United Kingdom
---
E commerce
Multilabel Store
Selfridges
400 Oxford Street
W1A 1AB London, United Kingdom
---
E commerce
Videos
---
RESERVED AREA
Showroom Online Access
---
Sign In