[red]Munsoo Kwon[/red]

[grey]Show - June 18th / Armani Teatro[/grey]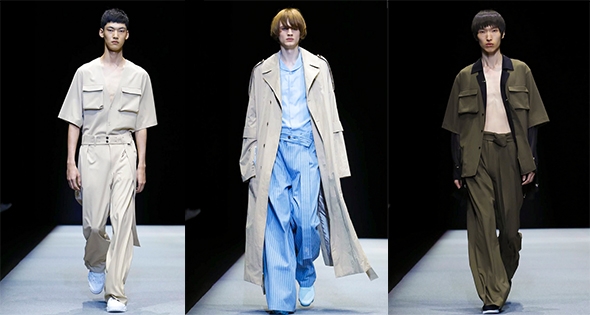 Yolo. You only live alone. The individualism, the fascinating social phenomena which reflects the current society with the raise of single-person household, is the fil rouge of the Munsoo Kwon Spring Summer 2018 collection showcased in via Bergognone, as the special guest at the Armani Theater. For yuppies in the early 80s to the Bobos, a bourgeois bohémien in the 21st century digital era to the Yolos, people with the view that one should make the most of the present moment without worrying about the future. It's for these social groups that the Korean designer takes inspiration to realize his creations for next hot season. The office looks alternate with casual looks, among camouflage, floral prints and bold stripes, in a clear combination of sartorial details, sporty elements and technological materials. So soft silhouettes and oversized proportions dominate the catwalk, among trench-style maxi coats, wide shoulder blazer, off-shouldered-ultra-long-sleeve sweatshirts and extra wide comfortable pants. The vivid colors confer to the collection a playful touch. Meanwhile Nike sneakers on the feet capture the attention.
A collection that mixes in a perfect way different styles and epochs, reinterpreting the classical garments in a cool tone.
After working under the tutelage of such names as Robert Geller, Helmut Lang, Thom Browne, and a long experience as a designer at Andrew Buckler, Munson Kwon has launched his very first collection for Fall/Winter 2012, in New York. In November 2013, he successfully presented the FW 13 collection which is his third one during the Seoul Fashion Week. His creations are built on neatly tailored modern silhouettes, with a strong identity.


[red]Wolf Totem[/red]

[grey]Show – June 18th / p.zza Vetra 7[/grey]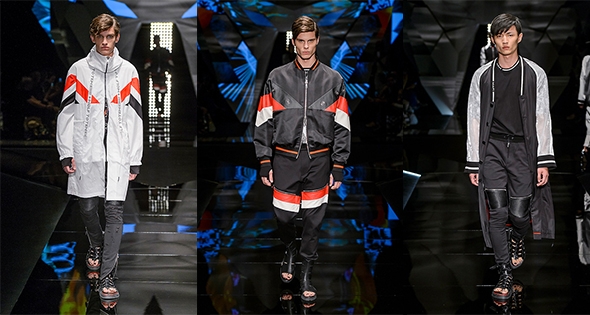 Wolf Totem's menswear looks towards contemporary style. The brand, owned by the apparel's Chinese giant Septwolves, debuted at Milano Moda Uomo showing the collection for the next Spring Summer inside the prestigious Teatro Vetra.
The label finds inspiration from the ancient Chinese tribe, the Kam, realizing a series of garments in which architectural volumes and strong shades predominate, to create a harmonious and balanced result with a transgressive twist. Under the spotlights maxi sweaters, t-shirts, bombers, leather jackets with studs and long coats, featuring psychedelic prints and geometric cuts. In a marriage between the Italian tailoring and the essentiality of the Oriental culture. A collection that celebrates the symbol of the brand, the wolf, enhancing its noble wild spirit and creating an audacious collage that brings together different cultures and distant lands, exploring new and exciting aesthetic boundaries.
A sequence of contemporary and metropolitan looks, with streetwear attitude and sporty accents. Perfectly coherent with the current fashion industry and ready to conquer the modern generation.
Founded in 2014 in Milan by Colin Jiang - brand's creative director - Wolf Totem is characterized by an avant-garde personality, where live together distinct cultural elements and modern details, interpreting a singular and original philosophy.


[red]Sulvam[/red]

[grey]Show – June 18th / Fabbrica del Vapore Milano[/grey]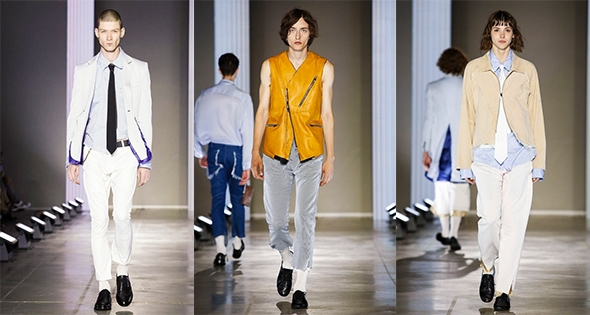 After the Italian debut last January at the Leopolda station in Florence, thanks to the collaboration between Pitti Immagine and the Japan fashion week organization - a project that gives visibility to the young talents of the Nipponese fashion world - the Japanese brand showed his Spring Summer 2018 collection in the meneghina town on the occasion of Milano Moda Uomo.
Teppei Fujita, who has a past experience in the Yohji Yamamoto's style offices, brought on the catwalks a collection which tells his genderless vision, emphasizing an excellent menswear tailoring. Ordered silhouettes are built on layerings, linear cuts, over effects. A simple, clean, casual style that gives priority to fabrics and patterns, able to interprete custom-made through a contemporary accent with a refined visual impact, focusing on high quality materials and innovative silhouettes.
Born in 1984 with a graduate of the Bunka Fashion College, the Japanese designer Teppei Fujita founded Sulvam brand in 2014. He won in the same year the "Tokyo Fashion Award" and he was among the winners at "Who is on Next? Dubai" in 2015. He also presented his collections at Paris Fashion Week.


[red]GCDS[/red]

[grey]Show – June 19th / Fabbrica del Vapore Milano[/grey]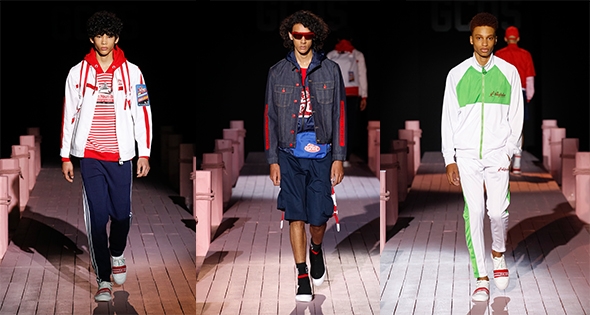 A pink catwalk that turns into a wooden pier to attend the trip in the creative imaginary of GCDS, the brand headed by the Calza brothers, Giuliano and Giordano, respectively Creative Director and AD, which debuts at the Men's Fashion Week in Milan, inside the Fabbrica del Vapore.
The collection for the next Spring Summer 2018 features jackets, pulls and a variety of accessories, characterized by a vibrant color palette, tone-on-tone textile fabrics that allude to the sailor style and a clear reference to the Gulf of Naples, the two founders's origin place. The label dresses the hot season with a streetwear influence.
The logo stands out everywhere. Among denim, white sponge socks, camouflage fantasies, contrast patches, reflective details.
The focus is also on a great capsule collection, that is the result of the new collaboration with the Australian historical brand, including a series of garments that combine sports heritage and pop style.
GCDS, acronym for "God Can't Destroy Streetwear" but also Giuro che domani smetto, is part of the new contemporary wave that invades the international fashion industry, representing a strong identity made of vivid colors and street sporty allure, for an aesthetic non conformist and with powerful visual impact. The brand will show its womenswear in September in the Big Apple, during the New York Fashion Week.

[red]Poan[/red]

[grey]Show – June 19th / Fabbrica del Vapore Milano[/grey]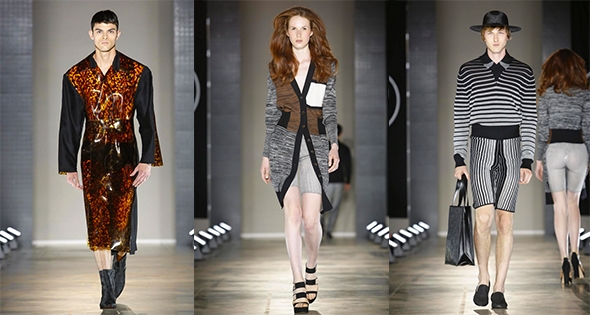 Poan-People of all Nations 2018 Spring Summer collection pays a real homage to diversity, beauty and harmony without boundaries. The London-based Austrian designer, Georg Weissacher, brings its own utopian philosophy to Milan for the first time ever, exploring a visionary universe in which coexist past and future. The label showcased its creations inside the Fabbrica del Vapore's spaces thanks to White tradeshow support, in partnership with CNMI-Camera Nazionale della Moda Italiana.
The collection takes inspiration from the book "The Phenomenon of Man" by French philosopher, poet, biologist and Jesuit priest Pierre Teilhard de Chardin, to interprete a fine aesthetic vision through futuristic and technologic elements.
The designer combines juxtapositions of raw materials and earthy printed patterns, mixing clean shapes, layerings, oversized silhouettes and some transparency. The numerous clerical references, from hats to belts, allude to the series of The Young Pope directed by Paolo Sorrentino. While knitwear is revisited with sporty accents. All garments are manufactured in Italy.
After his studies at HLMB Hallein - Institute for Fashion Design, Tailoring & Production - Georg Weissacher worked for 9 years as head designer for Vivienne Westwood's and in 2015 he launched his men's ready to wear brand, which based in the British capital.
Innovation and sartorial know-how are the fundamental ingredients that characterize the eclectic brand.
Anna Rita Russo © Modemonline