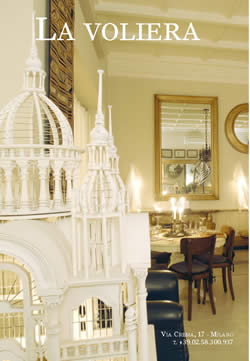 Osteria La Voliera
via Crema 17
20135 Milan, Italy

---
12.00-14.30 & 19.30-23.30
saturday 19.30-23.30
sunday closed

- price +- 40 € -
---
P : +39 02 58 30 09 37
F : +39 02 58 30 09 37
lavoliera@hotmail.it
www.osterialavoliera.it

---
Just one step away from Porta Romana, a place with a romantic ambience, in which the furniture inspires warm feeling to be among friends, and inspires an intimate evening.
A white aviary welcomes guests who Marinella and Francesca offer culinary delights of simple dishes, revisited with a touch of originality, using the freshest seasonal ingredients that Marinella chooses daily in local little market.
At lunch dishes are made with simplicity and care. In the evening, a more refined menu offers traditional winter dishes (boiled, ossobuco and stockfish), while for summer season restaurant offers delicates dishes, maintaining a refined attention for ingredients. Desserts, proposed by Francesca, diversifying from chocolate cake to the famous tiramisu "La Voliera". Forthcoming themed evening with accompanying wines of famous wineries and a careful selection of cheeses and meats too.
---
Marinella & Francesca
Owners


---