Riz Poli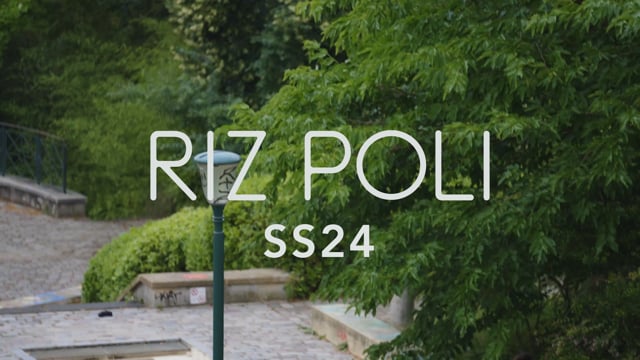 Collections
Women's RTW
Women's Accessories : Belts, Scarves, Gloves
The occasion for the creation of this brand was a gastronomic trip to a restaurant in Menton in the south of France in 2021, where we had the opportunity to taste one of the most basic dishes - bread. Accompanied by local huilerie, it smells of nutmeg and its softness and smoothness are simply irresistible.
I was deeply moved by the association of the glorious bread with another of our widely accepted staple foods - rice.
With this concept, the brand Riz Poli was created with the hope that it would satisfy both the physical and spiritual needs of people.
Riz Poli means polished rice in french. Rice is the base of food in many cultures, a simple however key element for nutrition. This brand was created with the purpose be a mental nutrition. Based on something simple as the ordinary everyday wardrobe of urban life, and bring them to a fantastic world to inspire creativity.The Riz Poli girl comes from this urban setting, she is complex and multifaceted character, mixing and remixing all the references from her surroundings and her digital life, to create her own singular uni- verse and express her identity. Sport, art, rave, sexy, feminine and masculine are all mixed and twisted in our collection to create her reality and feed her imagination.
Showrooms & Contacts
Showrooms
Function
Contacts
Riz Poli Cooperation
96 Avenue de la République, 93300 Aubervilliers France
93300 Paris, France


Sales Department

Sales Contact

Peng

P : +33658186148




Sales Department

Sales Contact

Tomi

hello@other-wise.net
Selection of Multilabel Boutiques
Multilabel Store
Leisure Center
950 Homer St.
BC V6B 2W7 Vancouver, Canada
---
E commerce
Multilabel Store
SND Chongqing Skp Concept Store
No. 89 Hongjin Avenue, Area C, 1F, Shin Kong Place, Yubei District
Chongqing, China
---
E commerce
Multilabel Store
SND Chongqing Wfc Concept Store
1st Floor, 2nd Floor, No. 188 Minzu Road, Yuzhong District
Chongqing, China
---
E commerce
Multilabel Store
SND Super Normal Dept Concept Store
No. 142, Qiantai Lane, Danzishi, Former site of Changjiahui·French Navy Barracks, Nan'an District
Chongqing, China
---
E commerce
Multilabel Store
SND Super Normal Dept Concept Store
No. 142, Qiantai Lane, Danzishi, Former site of Changjiahui·French Navy Barracks, Nan'an District
Chongqing, China
---
E commerce
Multilabel Store
SND Shenzhen Concept Store
No. 3288 Houhaibin Road, Houhaihui, L1-18, Nanshan District, Shenzhen City, Guangdong, China
Guangdong, China
---
E commerce
Multilabel Store
SND Guangzhou Concept Store
Floor 1, 2, 3, No. 2, Chunyuan Back Street/ 1st Floor, No. 1, Shiguyuan Road, Yuexiu District
Guangzhou, China
---
E commerce
Multilabel Store
SND Aranya Concept Store
Aranya Community Phase 6 Room 109-111, Building 29, Wenchuang Street, Gold Coast, Beidaihe New District
Qinhuangdao, China
---
E commerce
Multilabel Store
SND Sanya Concept Store
100 Haitang North Road, Sanya EDITION Xinghe Living Aesthetics Community JH01 Venue, Haitang District, Hainan Province
Sanya, China
---
E commerce
Multilabel Store
SND@XC273 Shanghai
No. 12, Lane 273, Jiaozhou Road, Jing'an District
Shanghai, China
---
E commerce
Multilabel Store
SKP Xi'an
No. 261, Chang'an North Road, Beilin District, Shaanxi Province
Xi'an, China
---
E commerce
Multilabel Store
L'Eclaireur
Paris, France
---
E commerce
---
RESERVED AREA
Showroom Online Access
---
Sign In