[size=16][red]UNX[/red][/size]
[grey]Presentation - rue Saint Honoré - March 1st[/grey]

UNX was born in September 2016 from the lure of Olivier and Marie Dall'Arche for combat sport and self-defense. UNX combines the influences of sportswear with a minimalist and contemporary wardrobe. Through the collections, inspired by muay-thai, judo or taekwondo, the stylist Hedi El Chikh returns to the roots of sportswear by designing his clothes with the idea of movement, comfort, while keeping in mind the beauty and photogeny.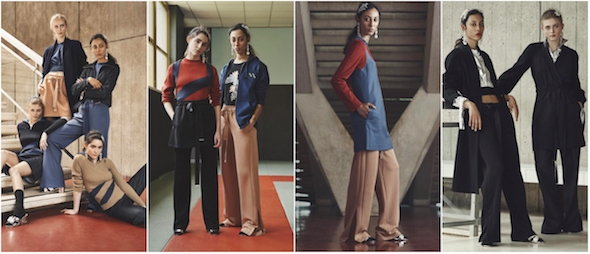 This third season revisits the spirit of Claire McCardell, which is a elegant and well-cut style devoid of extra details. Positioned precisely between sportswear and tailoring, the A/W17.18 collection speaks to women who seek stylish yet comfortable clothing, that can easily be worn around town and around the world, confronting the technicality of clothing and sophistication for a woman who wants to feel good at all times.

Artistic director Hedi El Chikh explored tailored fabrics and molded them to highlight the construction, bias cuts, sophistication, feminine silhouettes with utilitarian technical pieces also featuring zips. She created, jogging pants in an ultra-silky jersey material, paired with a tailored cross-buttoned jacket; an A-line, box-pleated gabardine skirt, slipped under a striped wool jacket, with a martingale in the back; a wide, ribbed jacket with a neoprene collar worn over a long, fluid skirt in plaid, mixed up with a hooded djellaba; a jersey varsity jacket treated in Intarsia or a long hooded pea coat, all crafted in a Parisian workshop.


[size=16][red]Heill[/red][/size]
[grey]Presentation - Le Bristol Hotel - March 4th[/grey]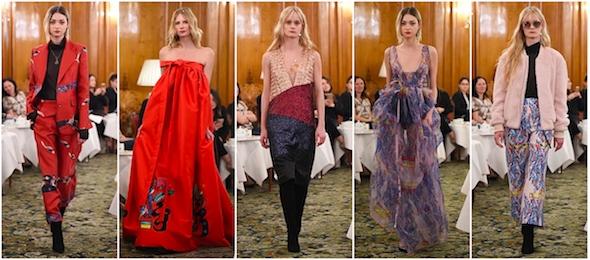 Heill has been founded in 2012 in Seoul by the designer Heill Yang and is now driven by him and his daughter Ines Yang. It is a luxury ready-to-wear brand, for men and women looking for quality, creativity and comfort, with sophisticated taste. Graduated from ESMOD Paris and after 30 years of experience in Paris, Tokyo, Seoul and in different fields of fashion, Mr Yang envisioned creating a cosmopolitan brand, that would make affordable luxury a "reality". Ines took on the role of joint creative director in 2016 after joining the business as art director in 2014.

Refined silhouettes, modern tailoring, artisanal work, a creative print collaboration, unique evening gowns and quality define the brand. The concept is to offer unique styles inspired by poetry, art and Korean/French culture. In a quick evolving and hostile world, the Korean creative duo wishes to deliver a message of peace, love and humanity for this season.

For this A/W17.18 collection the duo was inspired by five popular works from "Minhwa Munjado", a type of Korean folk art composed of 6 to 8 works containing Chinese characters (showing the high cultural level), embellished with figurative decorations. Each character and each color and print represent a virtue such as fidelity, loyalty, humanity, love, trust, justice, kindness, respect for the elders, tolerance, wisdom and politeness. The collection is exclusively manufactured in Seoul.

The brand showcased for the first time their collection at Paris Fashion Week in the prestigious Hotel le Bristol on the 4th of March last year. The audience sat on the Salon Castellane for a delightful tea that came with sweet/savory culinary creations, while the models were walking among the tables with inspirational background music.


[size=16][red]Cynthia & Xiao[/red][/size]
[grey]Runway Show at Paris Descartes - February 28th[/grey]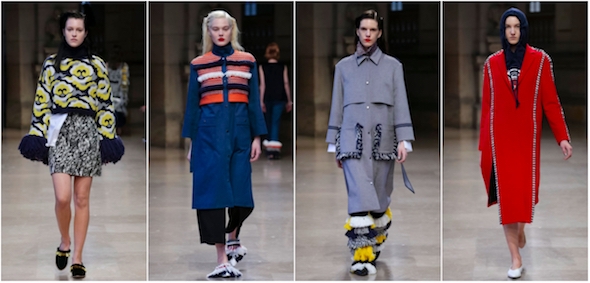 Cynthia & Xiao is a womenswear brand, founded in 2014 by the Chinese fashion designer duo, Cynthia Mak & Xiao Xiao. The brand's spirit takes its roots from Cynthia's background in graphic and fashion design, as well as in Xiao's special skills in fashion knitwear design; the garments combine a bold constitution, yet minimalistic and easy shape. Cynthia was born in Hong-Kong while Xiao was born in Beijing, but they both attended Central Saint Martins College of Arts and Design in London. Pushed by this dynamic artistic environment, they explored many different ways to express their creativity. Vogue Italy even named Cynthia "a designer to watch out for" following her graduation collection, including her in their list of "New Talents".

For their first time at Paris Fashion Week they showcased inside the Paris medicine public college, among the Fashion Farm Foundation's collective. The brand revisited its designers' passion for Chinese traditions and handcraft. The designs were inspired by two Chinese symbols, the rabbit and the tiger. These two animals also represent Cynthia and Xiao, according to their Chinese Zodiac sign, Cynthia being a rabbit and Xiao a tiger. Following the brand's traditions, the collection is filled with elaborate, handcrafted details. Taking their knits one step further, they have created their own knit fabrics all hand-crafted. The brand has incorporated them into clothing to create unique textures and exciting visuals by using Xiao's expertise in knitwear and Cynthia's skill with woven design, to bring out original winter pieces.

More Info: Cynthia & Xiao


[size=16][red]Barbara í Gongini[/red][/size]
[grey]Presentation - rue d'Uzès - March 2nd[/grey]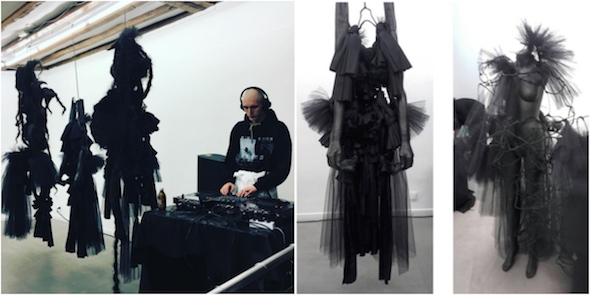 Barbara í Gongini is a Nordic brand founded in 2005. Barbara í Gongini, the designer, was born in the Faroe Islands and graduated from Denmark´s school of design in 1996 at the Institute of Unica Design. She received a special recognition for the Denim Challenge during the Copenhagen Fashion Summit in 2014. Besides, Barbara is into interdisciplinary works in close collaboration with various artists in film, music and photography fields.

The core of the label's DNA is centered on the strength of individual and not on sex or sexual orientation, societal order or other normative pressures. The specific construction process aims at crafting garments suitable for both men and women and is focused on sustainability. Wearers are encouraged to interact and close forms by selective personalization of the silhouettes.

Being her first time at the Paris Fashion Week she chose to present her collection with a film projection called Module Modular. It's the outcome of a collaboration between several nordic artists, forming an interdisciplinary collective. The Danish hairstylists Søren Bach and Joekim Davie Lenny Nielsen, the Danish filmmaker Mikkel Völcker, Janus á Argjahøvda, the Icelandic musicians Human Woman and the choreographer Sara Gaardbo.

The A/W17.18 Collection is shaped from the clash between traditionally tailored garments and urban street-wear. The focus lies on basic items, as the wearer is encouraged to layer up with other designs. This season is circling around organic shapes, inspired by the northern hemisphere. From raw leather over stone washed garments and cold dyed items. Light cotton, raw linen, soft leather and long wool are mainly used as well as dusty tones, chalky-coated surfaces and ash tones.

More Info: Barbara í Gongini


[size=16][red]Claudia Li[/red][/size]
[grey]Presentation - rue du Mont Thabor within American Designers in Paris - March 8th[/grey]





Claudia Li is the creative director and founder of the label, a New York-based luxury women's ready-to-wear line with a focus on creativity and artistry. The brand was debuted at the A/W15 New York Fashion Week and is now shown there twice a year, during the seasonal fashion weeks. Claudia first obtained her BFA in painting, then studied design at Central Saint Martins and fashion at Parsons School of Design where she obtained her MFA. She worked for Brandon Maxwell and Lady Gaga at Haus of Gaga, then she became the womenswear designer for J.W. Anderson while perfecting her draping skills.

The brand merges modern and comfortable androgynous silhouettes with innovative techniques and fabrications. Her collections often play on dualities like weight, fluidity, texture and dimension. "Take me away to a different place and time," is the theme of Claudia Li's A/W17.18 collection. She drew inspiration from portraits of strong female figures and ideas, associated with time travel. Triangles, are typically seen as a shape of mystery, in her collection she interpreted the shape in collars, sleeves, cuffs and layering details. New fabric techniques are introduced in the form of quilting including waterproof pieces add a mechanical aspect to the collection.

Claudia continues her use of patterns seen in plaids and houndstooth, and introduces the use of corduroy, shearlings and fur pieces (detachable) for the first time. Finally, shades of blues, cinnamon and brown work together to bring the mystique of the collection to life. Claudia Li includes a new capsule footwear collection: a pair of pumps and booties with a three-inch heel are available in all white or black leather with gold hardware.


[size=16][red]Ottolinger[/red][/size]
[grey]Presentation - Palais de Tokyo - March 6th[/grey]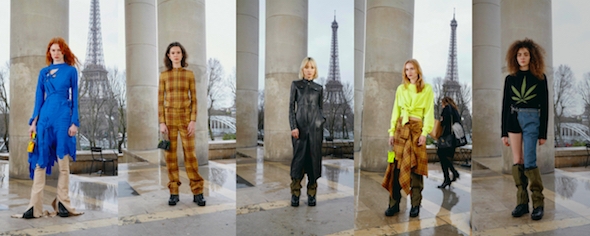 The Berlin-based label Ottolinger is a collaboration between Christa Bösch and Cosima Gadient, the two met at the Basel School of Design in Switzerland. The brand began with its A/W16.17 womenswear collection.

Ottolinger presented its latest collection during the last Paris Fashion Week. Ottolinger's A/W17.18 collection continued the themes from their previous collections — shirts with holes burnt into them, cut- and knotted-up dresses — this adds communication to the materials and patterns that vibe with the complexity the label is celebrating. Tops and pants are sewn from bandages, in nude or dyed blue.

Dressed in a felt coat, the Ottolinger woman seems to come straight outta "Transmetropolitan", a cyberpunk comic book series, written by Warren Ellis, with art by Darick Robertson and published by DC Comics. IIn combination with the label's clean denim designs, the aesthetic of the comic leaves its traces elsewhere in the collection. A hoodie sporting a marijuana leaf on the chest, tie-dye dresses and a variety of plaid are heavily associated with the childhood of the Millennial minds.

[size=16][red]Anton Belinskiy[/red][/size]
[grey]Presentation - Palais de Tokyo - March 1st[/grey]





The Anton Belinskiy A/W17.18 collection is hailing from the streets of the designer's native Kyiv. The collection's title "Exchange" suggests the life cycle of clothing and how garments end up passing from owner to owner. It features codes and references, from sportswear, work wear and what used to be perceived as luxury, that are completely intertwined in the context of contemporary fashion. The collection's key pieces are suit pants; sheepskin jackets and fuzzy, long fur coats; bright red and electric blue flowing silks; jumpsuits and jackets with elements of utilitarian wear. The materials used include cotton, mohair, silk, cashmere and wool.

In an era of major political shift in the world, Anton Belinskiy's work poses questions of independence, the meaning of history and national identity in the global world. Today the striving of Ukraine's young generation for freedom and identity is manifested through underground raves, art, photography and fashion, and Anton Belinskiy is at the heart of this youthquake.

Anton Belinskiy's work has been featured in Dazed, i-D, 032c, Vogue US, Buro 24/7 and other international media resources. In 2015 he was nominated for LVMH Prize and presented his collection at VFiles in New York. Among the designer's current projects is an installation which is going to be presented at the 57th Venice Biennale as part of Ukraine's pavilion.


[size=16][red]Beautiful People[/red][/size]
[grey]Presentation - Elephant Paname - March 4th[/grey]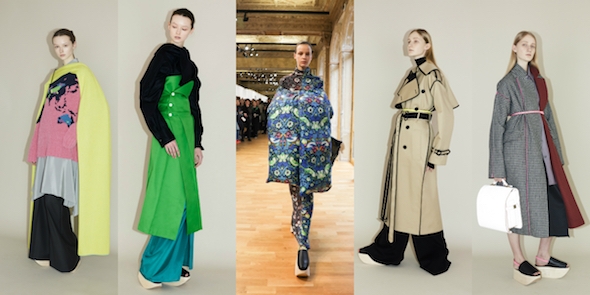 The designer Hidenori Kumakiri is born in Atsugi, Kanagawa Prefecture. After graduating from the Apparel Design Technique Course at the Fashion Technology Department of Bunka Fashion College in 1996, he worked as a patterner at Comme des Garçons Homme. In 2004, he founded an outsourcing pattern company. In 2007 he launched his own line called Beautiful People, which became a quick hit in Japan. For beautiful people's Parisian debut, designer Hidenori Kumakiri invited street style monsters from Tokyo to walk down the streets of Boulevard Saint Germain. He imported Oiran, or elite escorts from the Edo era, to the Jardin du Luxembourg — oversized French camellia hairpieces in acetate created by Alexandre de Paris were affixed to their heads.

The duality of cultures, Wa-fuku (traditional Japanese clothing) and Yo-fuku (western clothing) creates a culture clash of conflicting colors and references, represented in the collection for instance by a trench coat with Tamoto sleeves (kimono's sleeves). Yo clothing is expressed as men's tailored shirting, trench coats and denim, while the Wa clothing is present through front seams and super-flat architectural pressed lines, showing where to neatly fold the garment. Traditional obis (kimono's flat belts) are reinterpreted by layers of belts in leather, python and various fabrics. The idea is to corrupt classicism with a dark side, thus most pieces are reversible and double faced, styling is layered to emphasize the contrast, with plays on proportion amplifying the effect. Randoseru, the classic Japanese schoolbag, is revisited in pastel colors with a tech enhancement that allows them to shine bright when it's flashed.

More info: beautiful people


[size=16][red]Ashi Studio[/red][/size]
[grey]Presentation - AMF Showroom Paris - March 4th[/grey]





Launched in 2007 in Beirut by the designer Mohammed Ashi, Ashi Studio established itself as a luxurious fashion house. The designer was born in 1980. After a marketing graduation, he began attending Esmod to study fashion design. Praising timeless and modern elegance, Ashi's designs, through their sharp cut shapes and intricate details, revisit the greatest codes of fashion. Today, Ashi Studio has not only imprinted its style in the couture world by sculpting every dress with ornate fabrics and embellishments, but has also recaptured the essence of wearable art.

The designer embraces embroidery to capture the essence of luxury and aims to tell fairy tales through every meticulously hand crafted design, inspired by diverse cultures he's yet attached to his Arab roots. For his first ready-to-wear collection he made the sober choice to create mostly black, white and pastel pink pieces, as he'd rather play with transparency, pleats, embroideries and layers than colors. Ashi raises up the Hollywood's golden days with a modern twist through fluid and delicate or stiff fabrics strenuously pleated, that sculpt glamorous silhouettes. His recent collections, in neutral colors, are instant sensual classics.


[size=16][red]MiniMe[/red][/size]
[grey]Presentation - Designers Apartment l'Atelier Richelieu - March 7th[/grey]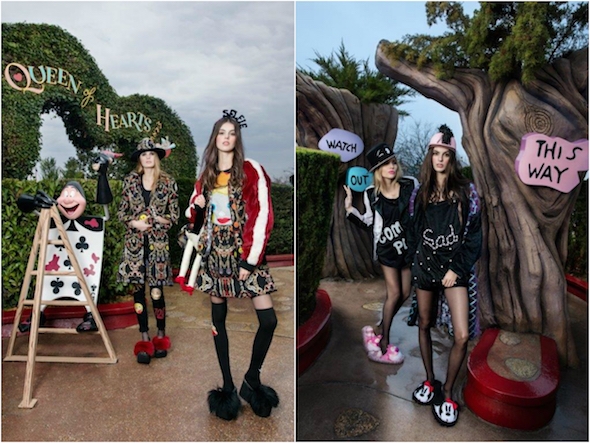 MiniMe is a handmade accessories and clothing's brand founded by Marie Marquet in 2014. She studied a the Chambre Syndicale de la Couture Parisienne where she was awarded with craftsmanship and ennoblement. She then has worked at several great couture houses including Hermès, Balmain, and Chanel. She is inspired by fairy tales, the imaginary, and pop surrealism.

In 2014, she won a young talent competition and soon after presented the concept of the brand "MiniMe" to the Première Classe trade show's managers. Enchanted, they proposed that Marie should present her collection with a brand concept at their September show where she presented for the first time. The brand developed quickly and in its second season launched a line of ready-to-wear and subsequently established a Parisian atelier "La Maison de MiniMe" and collaborates with companies such as Disneyland Paris or Universal and Emoji this season. In 2016 Marie won the Designer's Apartment Contest organized by La Féderation Francaise du Prêt à Porter.


[size=16][red]Sirloin[/red][/size]
[grey]Presentation - Toilettes Publiques de la Madeleine - March 3rd[/grey]





Shanghai based international womenswear label Sirloin, founded by the Japanese-Swedish duo, Mao Usami and Alve Lagercrantz, launched their brand during last Paris Fashion Week with their A/W17.18 collection. Mao and Alve, both graduated in 2013 from Central Saint Martins, they have already been awarded LVMH Grand Prix Scholarship, the L'Oreal Professional Young Design Talent and the Sally Woodward award. Since then Mao carried on her design career at Louis Vuitton and Alve at Dries Van Noten until their meeting in Shanghai to initiate their very own brand Sirloin.

Their vision is that owning underwear that matches with your favorite outfit is the true luxury. Sirloin is a brand that celebrates the importance of laziness and stupid elegance, which requires a different kind of confidence. The public toilets at Place de la Madeleine, built in 1905, illustrate the self-ironic point of view. The collection focuses on the "intellectual" questions that every Sirloin girl would ask herself during their brief moments in the toilet — a place that allows trivial, silly yet brilliant questions and ideas.

From classic vintage check corduroys and cashmere, to Chinese sand-washed silk juxtaposed against shaggy sweatshirts, velvet mesh and toilet paper pattern towel, the collection is curious and original. It finishes off with "outdoor" wear in underwear details, intending to complete the ready-to-wear collection with an underwear line. It accentuates the brand's vision of creating a full wardrobe, by merging underwear/lingerie with a ready-to-wear system.



[size=16][red]Pinghe[/red][/size]
[grey]Presentation - You/Concept - March 3rd[/grey]





Ping He is a Chinese-born, London-based fashion designer and founder of the ready-to-wear label launched in 2012. She previously studied fashion design at the Suzhou University in China, then in the UK attending Nottingham Trent University. She worked at Alexander McQueen and Camilla Staerk before joining Aftershock London as head of design for five years. This subsequently earned Ping a ' Best Rising Star ' award from the British Fashion Council. The brand debuted at London Fashion Week in 2014. The label quickly attracted the attention of CEO Joseph Wan and former Chairman of the British Fashion CounciL, Harold Tillman, who both went on to mentor the designer. Pinghe now owns over 15 stockists in 7 countries including Harvey Nichols, Fenwicks and SKP Beijing to name a few.

Fearless energy is the main ethos behind the Pinghe A/W17.18 collection - taking in influence from the book, ' Snapshots of Dangerous Women ', the pieces have been conceived to break what is perceived as feminine. The first presentation in Paris was held at the "Arts Factory" a gallery/bookshop occupied by YouConcept for the occasion. As a result, the collection encourages an androgynous mentality by combining masculine fabrics with feminine details. Oversized silhouettes feature across coats, dresses, trousers and dungarees, all softened with delicate in-house embroideries. Quilting, raw seams and waxed cotton bring a deconstructed element to the collection so that the tailoring harks back the studios' masculine roots. To add a feeling of luxe, leather and chunky knits are combined with an earthy palette of camel, khaki green and off-white with pops of yellow, red and blue - rounding off the story of the so-called 'dangerous woman'.


[size=16][red]Uma Wang[/red][/size]
[grey]Runway Show - March 3rd[/grey]





Before launching her eponymous label in 2009, Uma Wang studied at China Textile University and Central Saint Martins.She also designed for Chinese labels for ten years, where she developed her signature knitting technique and defined her own style and aesthetic. Since launching her brand, Uma Wang has received critical approval from her shows and presentations in Shanghai, London, Paris and Milan. Now she is the only Chinese designer who presents in Milan's official schedule. She has become a leader in the Chinese fashion industry by consistently producing high-quality products and collections that always balance fashion with functionality. Uma Wang is particularly skilled in mixing and matching different fabrics and textures to create simple but strong garments with subtle detailing and it is these unique abilities that have positioned her to become one of the first internationally successful Chinese designers.

For her first runway show on the official schedule in Paris, Uma Wang chose to express informal elegance and elaborate laziness through her work, in line with the season. The clothes are loose, long, and allow great freedom of movement and fluidity, but hide most of the silhouette. The choice of fabrics also induces a real comfy spirit, yet refined, with silk satin, chunky knits and velvet. Long slip dresses, wide trousers and cardigans, sometimes seen with a waistband, resemble a royal's pajamas. The color palette includes camel, dark brown, black and grey with dashes of red and blue.


More info: Uma Wang

Annabelle Tesseyre © Modemonline