Amidst the national pavillons, here are three notables shows…

1.The Fondazione Quern Stampalia, hung by the inventive curator Chiara Bertola, places Roman Opalka « Telling Time » amid the splendors of a Renaissance palazzo. His preparatory exercises for his paintings, never shown before, appear inside a cabinet of antique musical instruments, and, on either side of Lo Schiavone's churning "Conversion of St. Paul," from the mid-16th century, are his very first and very last "Détails." The pair have never been seen together, and when viewed face-to-face, you sense the dimension of his creation and life…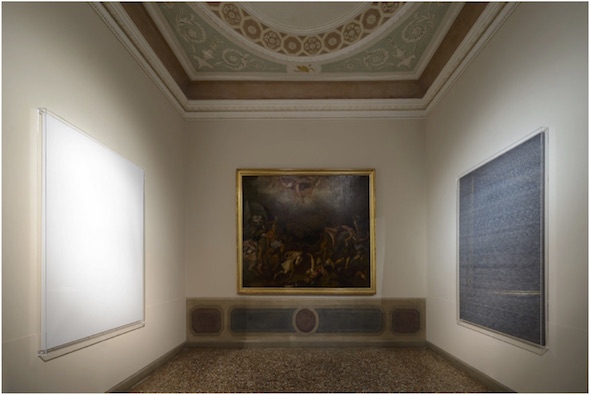 2. The Prada Foundation shows Janis Kounellis' last works. Here for example are hundreds of little scales heaped with a mound of ground coffee, a work from 2013. The Greek-born Italian artist, died two years ago. He is a key figure of Arte Povera. This show has been curated by Germano Celant, the man who first coined the term « Arte Povera » in 1967.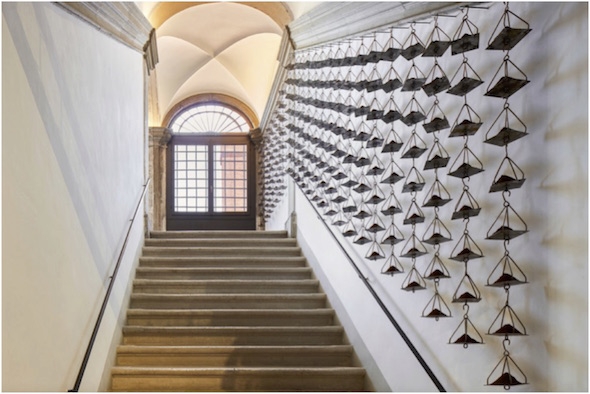 3. The Palazzo Grassi presents « La Pelle », an exhibition of the Belgian artist, Luc Tuymans. He transforms the airy Palazzo Grassi, one of the locations of the Pinault Collection. More than 80 of his paintings reveals media imagery through the eyes of a scientist suggesting decontextualized horror imagery.