On June 27th, the ANDAM, (National Association for the Development of the Fashion Arts), announced its 2019 winners.

Koché won the Grand Prize with a grant of 250.000 euros, mentorship for two years by Renzo Rosso, OTB President, who will advise the winner in her creative, corporate and commercial development and an in-kind donation from Swarovski of 10.000 euros worth of crystals to be used within the year 2019.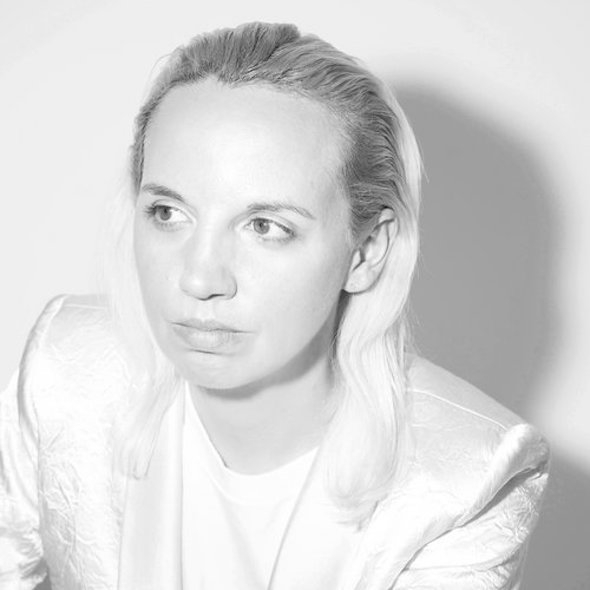 Koché is a Parisian brand established by Christelle Kocher in 2015. Koché stands at the crossroad of couture know-how, streetwear attitude and youth culture energy. The designer shows her collections at Paris Fashion Week and has also organised shows in New York, Tokyo and Marseille. Koché works with the best retailers across the globe: Le Bon Marché, Barneys New York, Net-a-porter, Matches Fashion, Shopbop, Isetan, Boon the Shop, Selfridges, Ikram, Printemps, Joyce. A graduate from Central Saint Martins, Christelle Kocher worked in Milan, Antwerp and New York, for Bottega Veneta, Dries van Noten, Chloé and Martine Sitbon. In addition, she is also the Artistic Director of Maison d'Art Lemarié (Chanel Group).





The Creative Label Prize went to Nicolas Lecourt Mansion a designer who launched his label only a year ago. The prize includes a grant of 100.000 euros, a privileged mentoring from Xavier Clergerie the founder of Jean-Louis, Premiere Classe and Who's Next, who will advice him on his digital and commercial strategy, for a one-year duration. Also, he will receive a privileged commercial and strategic support by Tomorrow London Holdings Ltd ; The winner will present in Paris and Milan showrooms and Tomorrow will appoint a Brand Support Sales Manager to promote and sell the collection. Further, he will be offered a dedicated meeting to help him understand the department stores' key planning objectives and positioning and the use of an exclusive space for the presentation of his next two collections by Galeries Lafayette.

Nicolas Lecourt Mansion launched a brand named after himself in 2018 and hustles by the force of his aesthetic impregnated by a of a sought and captivating iconography. His work goes beyond the gender, expression for him of what must be clothing in this 21st century. As much attached to drawing than to technique, he masters the process of clothing, from patronage to cut and from assembly to completions. Influenced by the innovating couturiers, Nicolas Lecourt Mansion proposes signed and creative silhouettes. A work which could be felt as raw, but if one look carefully, releases softness, poetry and special attention to the one who will wear it.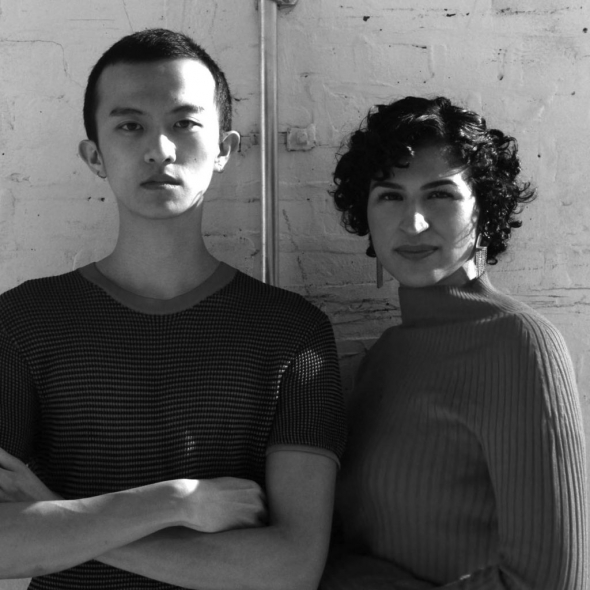 Khaoré was awarded with Accessories Prize, with a grant of 50,000 euros , mentoring from Hermès and a dedicated meeting to help them understand the department stores' key planning objectives and positioning by Galeries Lafayette.

Khaoré is a New York-based accessories label, founded by Wei Hung Chen & Raiheth Rawla in 2017. The brand is built with the intent of redefining the value of owning an item. The products are artistic reinterpretations of the everyday and mundane crafted to introduce a neoteric perspective of the objects to their audiences.


Besides, the new Fashion Innovation Prize awarded to Dr. Adam Walker and Cyndi Rhoades for Worn Again Technologies with a grant of 30,000 euros and a year-long mentorship from Pascal Morand, Executive Chairman of the Fédération de la Haute Couture et de la Mode and member of the French National Academy of Technologies.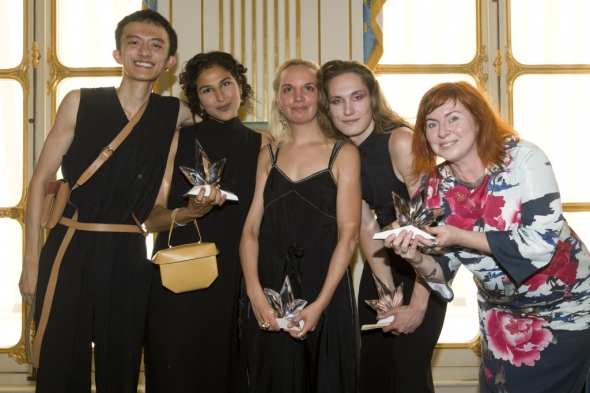 Wei Hung Chen and Raiheth Rawla of Khaoré, Christelle Kocher of Koché, Nicolas Lecourt Mansion and Cyndi Rhoades of Worn Again Technologies, credit : Dominique MAITRE for WWD

Further, all ten finalists of the 2019 ANDAM Fashion awards will be offered by:
— OBO, a guidance in the enhancement of their brand identity, development of their image, and advice in the execution of their events;
— Premiere Classe, a dedicated highlighting on its event during Paris Fashion Week associated with a targeted communication for french and international buyers and journalists;
— Swarovski, a dedicated workshop in the Swarovski showroom to discover their products diversity and the creative possibilities crystals offer for a collection.
The finalists of the Creative Label Prize will also benefit from a privileged access to IFM labels program at Institut Français de la Mode. this 12-month training program is an accelerator for young creative brands.

The ANDAM jury is composed of its two institutional sponsors — French Ministry of Culture, DEFI — its consortium of private partners — CHANEL, Chloé, Fondation Pierre Bergé - Yves Saint Laurent, Galeries Lafayette, Hermès, Kering, Lacoste, Longchamp, LVMH, OBO, OTB, Premiere Classe, Swarovski, Saint Laurent, Tomorrow London Ltd, — and fashion industry professionals.

Founded in 1989 by Nathalie Dufour, ANDAM (National Association for the Development of the Fashion Arts) seeks to identify and support, through its awards, the emerging talents of contemporary designers and assure the role of Paris as a key fashion capital.

JURY 2019

Francesca Bellettini, President & CEO, Saint Laurent
Pierre Bergé, Founder, OBO
Xavier Clergerie,Founder, Premiere Classe, Who's Next and Jean-Louis
Sophie Delafontaine, Creative Director, Longchamp
Geoffroy de la Bourdonnaye, President, Chloé
Guillaume de Seynes, Executive Vice-President, Hermès
Thierry Guibert, CEO, Lacoste
Guillaume Houzé, Image and Communications Director - Galeries Lafayette and BHV MaraIs
Stefano Martinetto, Founder & CEO, Tomorrow London Ltd
Bruno Pavlovsky, President of CHANEL Global Fashion
François-Henri Pinault, Chairman and CEO, Kering
Clarisse Reille, Executive Director, DEFI
Renzo Rosso, President, OTB
Béatrice Salmon, Deputy Director in charge of Visual Art, French ministry of Culture
Nadja Swarovski, Member of the Executive Board, Swarovski
Sidney Toledano, Chairman & CEO LVMH Fashion Group

Fashion professionals
Emmanuelle Alt , Editor-in-Chief, Vogue Paris
Michaël Amzalag, Founder, M/M (Paris)
Mathias Augustyniak, Founder, M/M (Paris)
Tim Blanks , Editor-at-large, Business of Fashion
Caroline de Maigret , Model and Producer
Nathalie Dufour, Founder and Managing Director, ANDAM
Joseph Ghosn, Editorial Director, Vanity Fair
Martin Margiela, First ANDAM winner in 1989
Pascal Morand, Executive Chairman, Fédération de la Haute Couture et de la Mode
Delphine Perroy, Editor-in-Chief Fashion, Madame Figaro
Harley Weir, Photographer